Field Searcy, of RepealRegionalism.com, explains how the regionalist mindset is deteriorating our republic by robbing elected representatives and citizens of their power to vote and breaking down borders into regions that cross state boundaries. What Field discusses can be seen at all levels of government in many towns across our country.
Tom DeWeese, the founder and director of the American Policy Center (http://www.AmericanPolicy.org) informs the sheriffs about the origins of Agenda 21, the central planning strategy that has grown out of the United Nations since 1987 to become soft law in the cities and counties across America to control all facets of the economy for an international redistribution of wealth.
On January 30-31, 2012 over 100 county sheriffs and peace officers, from over 30 states, united to uphold their oaths of office, protect citizen liberty, and stop state and federal tyranny. Inspired and led by the example of former Graham County Arizona Sheriff Richard Mack, the meeting, which was held in Las Vegas, was funded by the generous donations of thousands of Americans from all fifty states, as well as the support of freedom loving sponsors.
The agenda included training on the Bill of Rights, Interposition, Nullification and the importance of Property Rights versus Privileges.  Many sheriffs, a police chief and even a county commissioner shared their experiences, challenges and actions taken to uphold their oaths of office, directly with the sheriffs in attendance.
The videos of these presentations are shared here on the County Sheriff Project YouTube channel. We hope that you will share these videos with your own county sheriff and all the oath takers in your county.  To read the meeting agenda, see the event sponsors, learn more and show your own support for helping back more constitutional county sheriffs, visit http://www.CountySheriffProject.org
October 25, 2010
Last night I started thinking about all the questions people ask me about communitarianism. I then decided to stimulate my archived brain storage with a mock interview with myself. We're gong to post this at the newly revised and empty ACL too, but here it is for now:
Q. What is communitarianism?
A. Communitarianism is a Dictatorship of the Community. Unlike communism, which established a Dictatorship of the Proletariat, communitarianism is the more advanced stage of human social evolution.
Q. Is this just a harder to pronounce version of communism?
A. No. The emerging communitarian global system has many similarities to both capitalism and communism. Most of its homeland judicial structure, land and resource use policies and social welfare programs were tested and perfected by totalitarian communists in Russia, South America, Europe and Israel. The communitarian's financial and economic system was tested in the western imperialist and capitalist nations as well as in many of the former colonial states and developing nations classified as Third World.
Communism branched far out from its 19th century roots. Committed members evolved into Fabian Socialists, National Socialists, National Communists, Democrats, Christians, Republicans, Catholics, Fusionists, Evangelicals, Zionists, Pagans, Masons, LaRouchies and Libertarians, who all eventually adopted the common ideology of free market socialism. Imperial British American capitalists and Global Free Traders merged with mercenaries, academics, mobsters, environmental scientists and natural resource experts who all just happen to also promote free market socialism, known in academia and the higher courts as communitarianism.
The basic 1848 communist theory was that capitalism and communism were two necessary, conflicting, temporary stages in human social development. The final happy stage would arrive when the whole world descended into chaos and all sides to every conflict finally synthesized under one perfect ideology. Although Marx called the communism stage a dictatorship of the proletariat, he never said what the final stage would be called. It's our thesis that the final stage in the Hegelian-Marxist dialectic is called communitarianism.
Q. Can you break this down into more bite size pieces?
A. We can try. Communitarianism can be broken down into four main sub sections.
1. philosophy
2. religion
3. political ideology
4. law
1. Philosophically, communitarianism is the final synthesis in the Hegelian dialectic. Communitarians insist that humanity cannot advance to its final evolutionary stage of perfection without the help of their expert planning, guidance and administrators, who are obviously much more enlightened than the rest of us common born sinners.
2. The religious basis for communitarianism rests in the oldest dialectic still in existence, the Talmud. Dr. Amitai Etzioni of the Institute for Communitarian Policy Studies at George Washington University in DC is the American guru. He's a former Israeli commando who studied the Talmud and the Kaballa, and according to him, this makes him the international "expert" on how to build more livable communities.
In his 30 plus published books and hundreds of articles, Etzioni laid out standard Hegelian justifications for military and community development interventions. His solution to staged Hegelian clashes between nations is to end all nations. Etzioni assures us that individual rights and liberties can only continue to exist if they are balanced against the common good. The least discussed fact about the new legal system is that all former laws must be made agreeable to the superior unwritten Talmud. Zionist led Wars in Iraq and Afghanistan and the rise of Islamic law in formerly Christian nations are part of a perfectly crafted Hegelian ploy to ensure a brutal, endless conflict continues to grow between the two primary religious barriers to communitarian global governance.
3.. Politically, it's the Third Way, Radical Middle theory that allows its followers to justify fascist warmongering on the corporate right and encourage peace actions of the antiwar left, at the same time. Hegel taught his followers to play both sides if necessary, to flip-flop back and forth, because long drawn out staged wars and senseless bloody conflicts are essential to human advancement.
Both Bushes and both Clintons were described many times in the American press as communitarians; Senator Barack Obama was hailed by the Democrats as the Third Way Wonder Boy in 2004.
4. Communitarian Law is the legal foundation for the emerging world justice system. It's the global standard of norms for rebuilding the world under a new model of governance with jurisdiction over all national state citizens. Internal structural changes necessary to adopting a global bureaucracy were outlined by the United Nations in Local Agenda 21. LA21 supports every UN Resolution of Rights adopted since its inception. This document expands the authority of global institutions and their global decrees into every private home and private business on the planet.
The foundation for America's conditioning to submit to communitarian law was slipped into the U.S. under the Administrative Procedures Act of 1946, at about the same time the United Nations was formed. Many of the 21st century UN LA21 land and resource use regulations are enforced by local American agencies operating under the authority of this sixty four year old act.
Q. What would you define as a communitarian crime?
A. Communitarian crimes are violations of community regulations. When Americans are charged with communitarian crimes, the procedure for due process is not the same as what happens when Americans are charged with actually hurting someone or damaging someone's property. Communitarian crimes do not require measurable property damages.
Communitarian criminals are people who took a risk, traded home farm products, sold or donated used children's clothing, harvested natural herbal remedies, made too much noise, had an argument, smoked or farted in public, got fat, made somebody feel bad, had a dirty kitchen or dirty kids, looked scary, talked to themselves, sat down on the sidewalk, didn't care enough about keeping the neighborhood clean, nice or safe, or refused to donate their private land to help save the trees, birds, fishes or animals.
The system is designed so that the agency that writes and adopts the communitarian law is also the agency that sits in judgment of the accused. The burden of proof is not on the state. There is no appeals process for communitarian crimes; only guilty people are charged with committing communitarian infractions of revised and updated ordinances.
Q. What is Local Agenda 21?
A. LA21 itself is a lengthy, boring document (that few will ever take the time to read). It describes the goals and ultimate purpose of equitably micromanaging all global land, people and natural resources. LA21 suggests structural changes and specific legislation to be introduced in every nation. LA21 defined a vaguely benevolent system of Community Law that overrules all contrary national and state constitutional law. The UN's official 1987 definition of Sustainable Development is the communitarianized, spiritual version of Marx's atheistic "from each according to his ability, to each according to his need."
It's a real disadvantage to our nation that very few Americans know (or care) that every federal agency in the United States changed their mission statements to promote sustainability immediately after LA21 was adopted. Our leaders never once bothered to tell us that LA21 is based in communitarian law or that UN Sustainable Development principles violates our precise legal contracts that say our government has to defend our private property, private business, private farms, private medicine, private worship, and private lives from all invaders, foreign or domestic.
Q. Communitarian experts say a global government would be impossible to build. Do the communitarians really have the capacity to do what they swear they can never do?
A. Almost. The communitarian global governance model shifts public duties formerly performed by answerable public servants to unaccountable private-public partnerships and community oriented development police, and it adds new duties to their job descriptions every day. The terms for Communitarian global governance have been quietly adopted for over a century in legislation, private meetings and agreements between national leaders and international community developers. All the regions and regional trade unions have already been established. Every member state in the European Union has already adapted their national legal systems and formally adopted communitarian supremacy of law. In the United States and the United Kingdom, communitarian supremacy has been introduced quietly into the national systems under the guise of Free Trade Agreements (like the early EU), environmental and consumer protections, volunteerism, service training, healthy neighborhoods, neighborhood watch, neighborhood planning, Transit Oriented and ABCD Development, 2020 Visions, Rebuilding Community, The Wars on Terror, Drugs, Smoking and Obesity, and many more ways… all designed with one Common Purpose in mind.
Q. How do we learn to recognize communitarianism in our own community?
A. At the local level, Communitarian governance bypasses the normal municipal and county government apparatus. Every agency is merged with the others. it's called Interdepartmental Cross Training. There are no more separations of powers. Elected officials often hire city administrators and employ outside advisers and groups like ICLEI to draft communitarian plans and revised ordinances and regulations. New citizen responsibilities and requirements are swiftly adopted without debate by elected council members who all gain financially from the development games. (The list of Seattle Community Developers who earned high level posts in the Obama administration is long.) The day-to-day redevelopment of each individual community is administered by lower-level, un-elected and self-appointed councils, boards, committees, international partners, advisers and community development teams, many of whom don't have the first clue what they're working to implement.
Even where we live, Kenny Lake, a tiny rural Alaskan community of 400 residents, our local Community League is communitarian now. For years the league had two small jobs. They took care of the community well and hosted our tiny, once yearly, one day fair. Under the patient guidance of retired teachers, mental health providers and federal parks employee,s they've spiritually evolved into a Board of Directors with seven standing committees. Now they're asking everyone here to tell them their skills so we can all volunteer to help them with all the new grant funded community economic development.
Q. How far has it penetrated in the U.S.?
A. The core foundation for the U.S. communitarian system is already established. Community Development is a standard agency in every state. The term Sustainable Development expanded from the UN into the mainstream private business sector in less than a decade. Every inch of the USA has an adopted plan and vision for the future, and the goal of every single one of them is to ensure sustainability.
In the cities, Communitarians have already conditioned Americans into accepting aspects of life in controlled collectives. Borrowing from the most successful collectives in recent history, Communitarians utilize and expand on programs, policies and ideas perfected by the British Fabians, Imperialists, Russian Soviets, Chinese Communists, Nazis, Fascists, and Israeli commandos. This is why you hear so many Americans saying "it's socialism!" or "it's communism!" or "it's fascism!" or "it's capitalism!"; many people recognize these ideologies when they see them manifesting. But it's only once people start seeing more than one ideology going on at the same time that communitarianism begins to make total sense.
Q. Is there an easy way people can identify if a communitarian regulation is in violation of U.S. law?
A. Yes. In the U.S., any law not based in property is unconstitutional. All legitimate U.S. law must adhere to constitutional principles, and the U.S. Constitution is based entirely in property ownership. All legitimate criminal activities must produce some level of property damages. Civil suits must also request compensation for damages to property. Communitarian crimes are actions by people that interfere with the community developers' plans for rebuilding a safer, more livable community. Anything designed to improve "quality of life" is a communitarian program.
Communitarian Law is supposed to bring the entire world peace, security, harmony and happiness. Preventing bad people from doing bad things is the communitarians enlightened, moral imperative. Like high tech soothsayers, they steal our most private information and use it to predict our future, then they use their special trained community cops to stop bad people and bad things from happening.
Q. Should I buy more guns? (I hear this one a lot!)
A. Under the communitarian system, individual rights and liberties are not always balanced against the common good in the same violent way it happened to the people of China, the Ukraine, Cambodia, Iraq and Afghanistan. The more morally evolved and quasi-spiritual communitarians are a lot nicer when they balance individual and state rights against the rights of the community in more easily persuaded countries.
Q.. Is there an easy way to spot communitarian activity?
A. Yes. Any move by a small group of concerned citizens to change community behaviors is suspect. Their activities often begin with regulating private business and updating land use regulations. If there are a lot of new agencies promoting sustainable development and the creation of small "expert" councils with sub-committees (like the Alaska Food Policy Council) we can soon expect drastic, unnecessary changes to our personal freedoms. Some actions, like the new xray scanners in American airports, are right in our face and can't be ignored. Others are more subtle and behind the scenes; we have to look a little closer to identify them.
Right now they're very busy teaching us our new roles as global citizens. Internationally acclaimed communitarian legal advisers teach people across the world how to teach their neighbors to become better stewards of their local environments.
To a communitarian, we become better citizens and stewards when we willingly give up any constitutional claims to unalienable rights. Community Rights are more moral than outdated Individual Protections under the people's law. Communitarian gods and goddesses are the ones who balance our freedom to travel, move goods, offer services, produce food and products or otherwise live naturally off our privately and publicly owned lands.
Q. What's the final result of communitarianism?
A. The communitarian system changes formerly free people from being controllers over their own lives and resources to becoming the controlled resources themselves.
Source: http://nikiraapana.blogspot.com/2010/10/niki-raapana-talks-to-herself-about.html
By Democrats Against UN Agenda 21
For Progressive Democrats and all…
If you're new to learning about UN Agenda 21/ Sustainable Development you'd be understandably confused about what it is and how it impacts you and your area. You may be wondering how something that affects every aspect of your life including education, health care, law enforcement, energy, land use, and economic development could have eluded your attention for more than 20 years.
How could this have happened?
This is a public relations campaign–the biggest. Your government knows that if you knew what the plan was about in 1992 you would have objected to living under a dictatorship. You would have objected to having your educational system converted to a social indoctrination camp. You would have been distressed to learn that representative government was to be transitioned to non-representational government by appointed boards and commissions that you have no control over. So the propaganda campaign was in full force to hide the source and goals of 'Sustainable Development.'
It's only recently that the press even admits that UN Agenda 21 exists. Did the United Nations chose to call it the 'Agenda for the 21st Century' purposely in order to block further investigation? It sounds crazy. Up until very recently anyone who referred to UN Agenda 21 was labeled a 'conspiracy theorist' or a nut. Now the press acknowledges its existence but says it is a non-binding, twenty year old plan that has no impacts on local government. The United Nations, you are told, is ineffectual and the US just ignores proclamations and agreements it doesn't like.
The rallying cry of Communitarianism pervades your newspaper, television, workplace, and school room as you are encouraged to 'give back,' to volunteer and to think about the common good. If you question you are considered selfish and you won't be invited to the communal bike rides and neighborhood parties.
If you're like us you were a young progressive Democrat in November 1992 and thought Clinton was doing fine (well, a bit later we thought Don't Ask Don't Tell was rotten, and the war in Kosovo looked like a battle to control the heroin trade into Europe, and we thought it was nuts to give loans to people who couldn't afford them). Yes, you thought Clinton was doing fine now that Bush was out of office. You were excited to be part of a movement to encourage recycling and creative reuse. You felt good about yourself and thought Republicans were a bunch of flag-waving rednecks who ate raw meat and slept with their spurs on. You didn't know any Republicans personally, and you didn't want to. Your magazines–Earth Island Journal, Mother Jones, The Nation–were full of the degradation of the planet and the destruction of biodiversity. You were disgusted with developers, oil men, and big corporations and you blamed all of this on Republicans. After the Clinton impeachment trials you were even more convinced of the viciousness of the Republicans. You joined MoveOn.org and hosted political parties in your home. Later, 8 years of Bush Jr cemented your outlook even further. Hanging chads, yellow cake uranium, Jessica Lynch, Shock and Awe, Valerie Plame, Karl Rove, mailing anthrax to the Democrats, all of this and more drove a huge wedge in between the parties. As a Democrat you wouldn't even consider hanging a flag up on July 4th–people might think you were a Republican.
Meanwhile, all of this time, the Sustainable Development machine moved forward. Both parties (feeding on corporate dollars) supported it, furthered it with legislation, strengthened the Environmental Protection Agency, and brought UN Agenda 21 principles into every federal agency–without your knowledge. When you did hear about it from the corporate owned mainstream press it was in glowing terms about saving the planet.
You watched and suffered as your school systems were subjected to Goals 2000 and No Child Left Behind and Outcomes Based Education and Common Core never knowing that no matter how much money was thrown into these experiments in teaching and testing that your children would come out less able to live independent creative lives. Those who were diagnosed with learning disabilities were doused with drugs and warehoused for a dozen years–the silent illiterates. The kids who did well were overloaded with homework and staggering schedules that made office work seem like a relief.
Right around 2002 the planning revolution exploded across America as Growing Smart: Legislative Guidebook with Model Statues for Planning and the Management of Change was brought into every planning department, university and college in the nation. Written by the American Planning Association and funded by a partnership between the federal government, Siemens Corporation, and wealthy foundations, this is the blueprint for the new laws and regulations being trotted out by your local city council and county supervisors. This planning revolution was sponsored by the President's Council on Sustainable Development (1993-1999) as the first major step in bringing UN Agenda 21/Sustainable Development into the US. Every federal agency changed their policies to adhere to it. Those federal agencies are giving grants to local governments to implement it.
The tracks of UN A21/SD are everywhere but the corporate press has lied about it for 20 years. When the press isn't pretending that it doesn't exist it does the next best thing: mocks anyone who questions or calls out Sustainable Development as a corporate takeover plot to eliminate pesky national boundaries and representative government.
Using the lie of 'consensus' the corporation-funded non-profits go into neighborhoods and propagandize for programs and plans that give the illusion of strengthening the voice of the people. Instead that so-called consensus crafts public opinion and blocks anyone from dissenting. Yes, if you disagree with governance by unelected boards and commissions you'll be shamed and cut out of the herd.
Money talks, baby. Left, right, center–money talks. Now that the Democrats are on top the rhetoric has changed but the big money corporations are still calling the shots. BP is Green! Siemens (the Nazi corporation) makes high speed trains and light rail and owns water rights and solar and wind and makes huge amounts of money from GREEN. Siemens also funded Growing Smart Legislative Guidebook. IBM (Nazi collaborator) makes biometrics technology and smart grid and retinal scans and systems for water agencies to monitor you.
If you're a Democrat and you start saying the Emperor has no clothes you'll be rejected, mocked, shamed, and smeared. Not many people will be brave enough to QUESTION AUTHORITY if it means rejection from the tribe. Most Democrats will ignore objections to Sustainable Development as a right wing Republican attempt to sway hapless followers. It's easier than standing up and recognizing that the 1% is using green to manipulate the left.
And the press? The corporate press is tasked with selling this to you and using the hard sell. The threat is that you'll be destroying the planet if you don't go along. They make it sound so good that you won't ask the question: If this is so good why has it been a secret for the last 20 years? If this is so good why was the economy pumped and dumped? If this is so good why are my kids struggling to read? If this is so good why did I lose my house? If this is so good why are we still in Iraq and Afghanistan? If this is so good why is every single land use plan in the United States identical? If this is so good why are corporations persons? If this is so good why can't Democrats and Republicans work together? If this is so good why was the National Defense Authorization Act passed? If this is so good why are we subject to domestic surveillance? If this is so good why are we on Prozac, Wellbutrin, and every other drug prescribed to make us not care?
If you're identifying yourself as a Progressive Democrat you'll be inclined to think UN Agenda 21 is some fantasy of the right wing and laugh it off. Do you have the guts to admit that you've been wrong? Or will you listen to the corporate press and be duped? What does it take for you to realize that the left and right are fighting the same fight? It's the banks and big corporations buying off the government and non-profits. Global governance. New World Order behind the green mask.
AWARENESS IS THE FIRST STEP IN THE RESISTANCE.
http://www.democratsagainstunagenda21.com/1/post/2013/01/mainstream-press-lies-about-un-agenda-21-why.html
http://blogs.ajc.com/atlanta-forward/2012/11/25/a-real-agenda-not-a-conspiracy-theory/
2:29 pm November 25, 2012, by Andre Jackson, Editorial Editor
By Field Searcy
When I read on Page 185 of the March 2011 Cobb County Comprehensive Plan that the county supports the advancement of sustainable development policies as defined by the United Nations Division of Sustainable Development, I could no longer ignore that the U.N. Agenda 21 (A21) policies were real and thriving in America.
The U.N. policies are detailed in a 300-page document along with the Local Agenda 21 Planning Guide. Sold as protecting the environment, sustainable development policies are more far-reaching than our fields and streams. A21 outlines plans for the control of land use, housing, transportation, food production, consumption patterns, water, energy, education, the role of  industry and health care. Sounding familiar? We have been bombarded with these global plans of change.
Warm and fuzzy words like "comprehensive planning," "smart growth," "public-private partnerships" and "outcome-based education" were chosen by central planners to camouflage a desired alternate outcome. As adults, we are familiar with marketers using positive labels to encourage us to act in ways not always in our best interest. These words in the A21 plan were carefully chosen to make us feel better about giving up our sovereign rights. Conversely, negative labeling and hate speech are used when citizens disagree.
This is not a Republican or Democratic issue. Elected servants in both parties have worked to implement regionalism and public-private partnerships to fundamentally transform America. Economic models endorsing public-private partnerships violate free market principles by benefiting favored corporations, protecting private gains and leaving taxpayers obligated for losses. It proposes a "Communitarian" model of governance that is diametrically opposed to the American way.
In reality, the U.N. policies include plans to re-engineer human society through regional equity schemes to spread the wealth. Regionalism as a subset of A21 gives appointed regional councils control of vast sums of taxpayer dollars while working unchecked. Once appointed, the taxpayers are unable to remove these councils through elections. It threatens our representative form of government. It violates our one-person, one-vote principle to equal legislative representation.
The goals of protecting our natural resources are worthy. We can embrace the need to conserve the air, water and land as well as educate our children in a positive way. The real issue is the need for deeper research and honest dialogue into the ultimate goals of U.N. Sustainable Development while preserving the American principles of respect for private property rights, free enterprise and representative government. We need to root out who really benefits from the sweeping changes, as it is not the American people. It is no accident citizens across the U.S., including Georgians, are rejecting U.N. Agenda 21 policies.
Field Searcy, of Cobb County, led a presentation on regionalism and Agenda 21 for Georgia Senate GOP members last month.
Media Panic to Control Exposure of Agenda 21 Takeover
Aaron Dykes
Infowars.com
November 16, 2012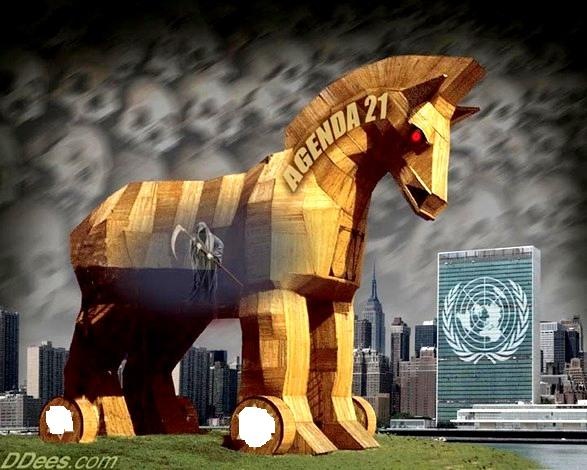 Opponents of Agenda 21′s local implementation in the United States have begun mounting a notable resistance. At state capitals and city councils, activists are showing up to educate and lobby their elected representatives about the implications of this United Nations' plan for sovereignty, property rights and the future development of the country.
It has become such a widespread phenomenon that media outlets everywhere are spinning into damage control in effort to ridicule the anti-Agenda 21 movement, hoping that it will go away before the general population understands the issue.
But their efforts are fruitless. Coverage across the country begrudgingly notes that groups are opposing local "sustainability" initiatives and fighting back against plans to concentrate growth into dense urban centers under emerging "mega-regions."
Now, a case in Georgia has triggered an all-out media frenzy, after a local group convinced the state's Senate Majority Leader, Chip Rogers (R – Woodstock), to hold an information session on Agenda 21 attended by several other GOP senators and representatives. Conspicuously negative coverage is being used to pressure these politicians to avoid supposedly fringe elements in their constituency.
The progressive, sustainability group Better Georgia released video of the meeting, and blasted the 'extremist' views presented, that included comparing Obama's socialist vision with the plans of Joseph Stalin and Chairman Mao, which resulted in famine and genocide.
Worse, according to the portrayals, is the involvement of one Field Searcy, who helped present the slideshow. Searcy had been booted from his Tea Party group for recommending people visit Infowars.com and tune into Alex Jones. The tea party group formally objected to Searcy's activities in "actively promoting issues and beliefs derived from conspiracy theorist Alex Jones." As such, his presence at the clandestine Agenda 21 meeting was presented as particularly damning.
11 Alive, the NBC affiliate in Atlanta, covered the meeting, mocking the conspiracy and "global control" theorists attempting to expose Agenda 21, telling viewers that the groups and politicians involved think people who believe in "environmentalism and sustainability" are part of the problem.
Meanwhile, the Atlanta Journal-Constitution published multiple articles on the Agenda 21 presentation, including an op-ed titled, "Agenda 21: The lunacy infiltrating state leaders." Regional papers promised that state Senator Chip Rogers would face "blowback" for hosting the information session, and otherwise insinuated that Rogers had been stung by the "secret" video that had "surfaced".
Further, liberal websites with national reach latched onto the opportunity for ridicule, distorting part of the presentation that discussed the use of Delphi Technique, crafted at the RAND Corp. for consensus building. Mother Jones published, "Top Georgia GOP Lawmakers Host Briefing on Secret Obama Mind-Control Plot," complete with an image of Obama in front of a hypnotic backdrop. Raw Story and the Huffington Post mimicked the mocking mind control mantra, as did Slate who also noted the rising popularity of "UN panic" it linked with Deep South politics of fear.
One author at the Examiner took it further, linking it to the secessionist movement now in the news cycle, with suggested overtones of racism, civil war and a 'South will rise again' mentality.
This video shows 52 minutes taped from the presentation that reportedly lasted four hours:

Agenda 21 Full Video from Bryan Long on Vimeo.
Speaking out against Agenda 21 is quickly becoming a component of the larger states' rights movement. Americans are waking up to the undue power concentrated at the Federal government level, as well as to the larger takeover by foreign corporatist interests, including those that created the United Nations and have used it as a nose under the tent to create world government and rule through regulations and taxes implemented on the pretext of environmentalism.
Locales from Casper, Wyoming to Los Angeles and Napa, California, among others, are being inundated with activists objecting to plans being sold under the guise of "smart growth," "sustainability" and other buzz terms.
"Stop Agenda 21″ groups have cropped up nationwide, and several government bodies have embraced the issue, to the chagrin of the establishment. Alabama passed statewide legislation banning Agenda 21 policies, and New Hampshire passed a similar measure through the House. The Texas GOP officially put Agenda 21 on its party platform, while Chip Rogers, the Georgia Senator mentioned above, attempted to introduce Agenda 21 legislation but was defeated.
Infowars.com did a series of reports exposing the local groups in Central Texas implementing Agenda 21 by stealth, with funding from President Obama's Partnership for Sustainable Communities, which is issuing planning grants through the U.S. Department of Housing and Urban Development (HUD). Obama's initiative is a continuation of President Clinton's Council on Sustainable Development, set up in 1993 to implement the United Nations' 1992 Agenda 21. During one of the meetings, the bureaucrats became uneasy at repeated questions from local residents who objected to the development "vision," while anti-Agenda 21 groups attended other meetings in protest.
Local Residents Challenge Implementation of Agenda 21 Growth Scheme

Wary of true grassroots movements of any stripe, the system is frantically trying to discredit a very real and important issue, while using the controversy to shame politicians from listening to voices coming from outside of the establishment controlled debate. The media harped on several county commissioners in Pinellas County, Florida who voted to remove fluoride. The contrived controversy was used to push them out of office, and their replacements are moving swiftly to re-fluoridate the water. Media outlets then bragged about the victory in intimidating the politicians and removing them from their posts.
A similar effort is now underway in Georgia to hold these GOP figures "accountable" for hearing out their anti-Agenda 21 constituents.
The citizens of Georgia will be voting on a Regional Transportation Referendum on July 31st.  Some people call it the TIA or T-SPLOST for Transportation Special Purpose Local Options Sales Tax.  Actually, it's not formally a SPLOST as the money can be shifted among projects on the list.  Whereas in a true county adopted SPLOST, the county must complete all of the projects on the list approved for the referendum.  This Regional Transportation Referendum is for a 1% sales tax on all purchases for 10 years.  The state is divided into 12 regions.  Every county will vote if they want the tax in their region.  From our research, most Georgian's have not even heard about this referendum.
For Metro Atlanta, not only will the project list not help the congestion problem, if passed, it may permanently prevent us from ever dealing with congestion.  52% of the tax revenue will be used to fund mass transit (bus and rail).  Yet, only 5% of the population uses mass transit.  Many of the projects are underfunded or only partially funded.  You can find out more about the Georgia Transportation Investment Act of 2010 (TIA) and ways to help us stop it here:  www.traffictruth.net .
As I've been studying this issue more and more, I've come to a conclusion regarding the TIA/T-SPLOST.  The most important aspect is that it's a funding mechanism for Regional Governance which is dangerous in the following ways:
1) It's another level of bureaucracy
2) Another level of taxes
3) Most important, the decision makers are unelected and unaccountable to the people
So, what you are really voting on is a new form of government that's contrary to our republican form of government which provides for representation and consent of the govern.  This is the most dangerous aspect of the Transportation Investment Act and it's not even being discussed.
I just gave a presentation yesterday in Bartow County on Regionalism: Threat to the Republic – How Regionalism and Public Private Partnerships are tearing down constitutionally limited self-government and genuine free market economics.  You can download it here and see a couple of videos on Public Private Partnerships
This is a question for all Georgian's.  Do you want another layer of state government that's unelected and unaccountable to the people?
Presentation:
Regionalism-Threat-to-the-Republic
Countering the Delphi Technique
How to Handle Predetermined Consensus Meetings
Using the Delphi Technique to Achieve Consensus
Defeating the Delphi Technique